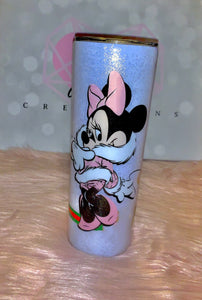 20oz skinny Hot/Cold stainless steel tumbler with slide cap and clear straw
 Please Read Shipping & Return Policies before purchasing.
Due to the handmade nature of these tumblers and other custom items, minor imperfections may occur and sometimes are unavoidable. I make EVERY effort to create your order to be as perfect as possible.
All my tumblers are handmade and some are hand painted. They are all unique and will look different then one another when one or more of the same is purchased. 

Sealed with FDA compliant Epoxy , care instructions are as follows....

***Care instructions***

-Hand wash ONLY with warm soapy water
-DO NOT use abrasive cleaning tool
-DO NOT place in dishwasher
-DO NOT soak or submerge
-DO NOT use bleach or cleansers
 EPOXY is sturdy but NOT indestructible, if dropped it can crack, chip or even shatter. Please handle your tumbler like you would a glass mug