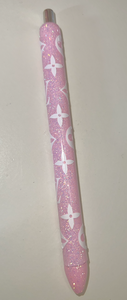 FREE SHIPPING ON 3 OR MORE GLAM PENS( US ONLY) ! 
( this applies when only glam pens are in the order)
Please read shipping and return policy before placing your order.
Retractable Gel pen with black ink . Sealed with Epoxy for a smooth finish. 
Due to the handmade nature of handmade items, minor imperfections may occur and sometimes are unavoidable. I make EVERY effort to create your order to be as perfect as possible.