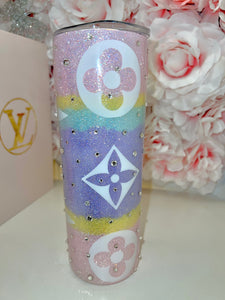 PLEASE READ BELOW
20oz Stainless Steel Tumbler comes with clear straw and a clear sliding lid. Holds hot/Cold Drinks. 
Double wall, Vacuum insulated, BPA Free
These products are all ready to ship,  they will be shipped within a few days of purchase. 
**** THESE CANNOT BE PURCHASED WITH ANY NON-READY TO SHIP ITEMS*** If purchased together, your items will ship with the expected turnaround time! You may place 2 separate orders to ensure you get your READY TO SHIP items in the timely manner stated.
They CANNOT be personalized. 
* Please read Shipping and Return Policy before purchasing*

***Care instructions***

-Hand wash ONLY with warm soapy water
-DO NOT use abrasive cleaning tool
-DO NOT place in dishwasher
-DO NOT soak or submerge
-DO NOT use bleach or cleansers